Celebrations of the 70th anniversary of the foundation of UNIMA
These were held throughout 1999 in all UNIMA member countries. The Czech centre celebrated this anniversary by two events.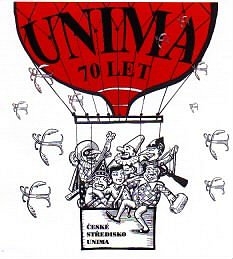 The first, the May Club of UNIMA, was held on the eve of the "anniversary" /19.5.1999/ directly in the place of the deed – the Realm of Puppets – hosted by the local company which also prepared the artistic prgramme of the evening. The toast to the future years of UNIMA was made by ing. Jan Novák, and a brief history of UNIMA was presented by Nina Maliková.
The second event of the 70th anniversary celebrations of UNIMA was the welcoming of important guests – all prominent representatives of governing bodies of this organization and representatives of the various national centres – to Prague at the occasion of the festival One Flew Over the Puppeteer´s Nest 1999. The Czech UNIMA centre in Prague welcomed the president of UNIMA, Mrs. Sirppa Sivori of Finland, the secretary general of UNMA, Mr. Jacques Felix of France, Claire Voissard of Canada, Livija Kroflin from Slovenia, Mark Waskiel from Poland, Penny Francis from Great Britain and Blanka Kaplan from Sweden. These guests from abroad and significant representatives of Czech puppetry were received and welcomed on Sunday, November 7, 1999 in the Brozik Hall of the old town hall by representatives of the City of Prague, the place where UNIMA came into being. The festive day concluded with a visit to the historical puppets in the depository of the Realm of Puppets, with official addresses at the occasion of the 70th anniversary of UNIMA, the solemn declaration of the ERIK Prize and by attending a performance of Don Giovanni as presented by the National Marionnette Theatre.
Group photograph in front of the UNIMA memorial plaque at Žatecká street.